March 1st 2019
Happy Birthday LCCR!
We're celebrating 5 years of serving Limerick this weekend! We started broadcasting in 2014. Tune in on 99.9FM or listen via the player above to join in the celebrations!

Many thanks to Laura's Baked Creations for the cake!
January 13th 2018
Christmas 2019!
Limerick City Community Radio is finishing up for Live FM shows on the 15th December, but we will be back in January, on air on 99.9 FM across the city in 2020 - tune in and tell your friends about us too!
November 25th 2017
Sport Changes Life
Matt & Liz joined Dan & Gearóid on this morning's What's the Score to talk about their involvement with Limerick Celtics Basketball Club
April 5th 2017
Limerick's Got Talent 2017
Limerick City Community Radio - proud media partners of Limerick's Got Talent.
March 17th 2017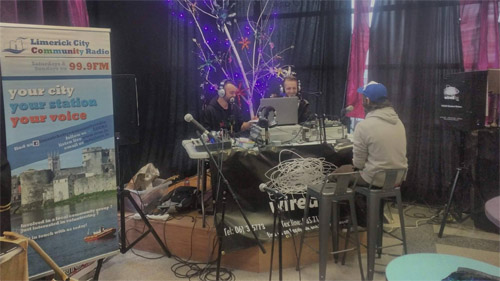 St. Patrick's Day
Wired FM and LCCR teamed up for a special St. Patrick's broadcast, live from Chez le Fab in Arthur's Quay Park from 2-5pm.
June 17th 2016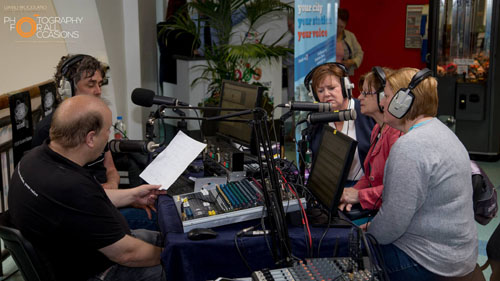 National Community Radio Day
Limerick City Community Radio joined forces with Wired FM for an outside broadcast for National Community Radio Day 2016
Image Courtesy of David Woodland Photography
May 28th 2016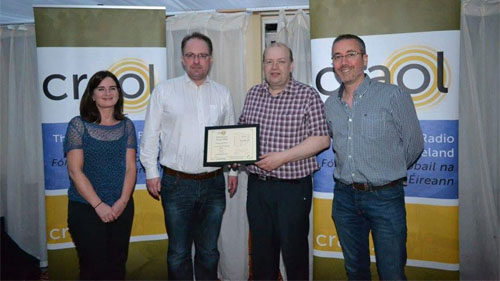 Another CRAOL Award for LCCR!
LCCR's Richard Smith & Mark Spain accept LCCR's latest CRAOL Award for "Community Focus" in the "Social Benefit - Talk" category.
March 30th 2016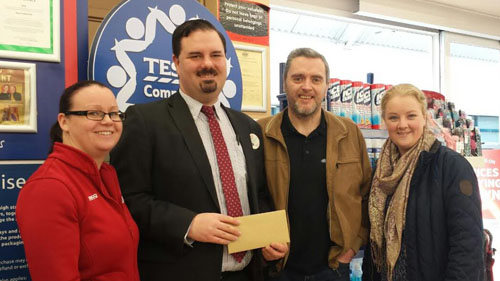 Our Thanks to Tesco Community Fund!
LCCR's Sarah Lee Kiely & Liam Byrne with Tesco Roxboro's Sean Sheahan & Jennifer McGrath for the presentation of the Tesco Community Fund cheque. Our thanks to all shoppers who supported us too!
September 9th 2015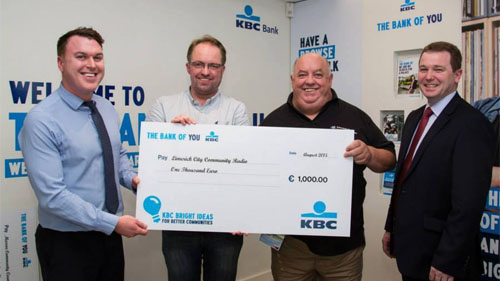 KBC Bank Award for LCCR
Limerick City Community Radio was presented with a cheque by KBC Bank at a reception on Wednesday as part of the bank's "Bright Ideas" Awards for creative community groups
July 18th 2015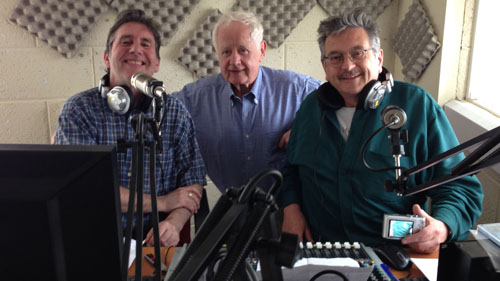 Alphie McCourt visits LCCR
Alphie McCourt called in to "Between the Pages" following the unveiling of the plaque to his brother Frank McCourt.
Limerick City Community Radio on 99.9 FM every Saturday and Sunday!
Limerick City Community Radio would like to thank everyone who has assisted us to date, including Wired FM, CRAOL & The CRAOL Helpline, the BAI, Tracey Lynch & Tait House Community Enterprise, Limerick Enterprise Development Partnership (LEDP), Ken Walker of Hosting Energy for our broadcast streaming & text messaging facilities, Elive Ltd. for our web and email hosting & domain registrations, Windmill Motors for our first home, and of course all of the volunteers & presenters who got the station going and are delivering our top-class programming!